Looking for a trailer-free, two-person fishing kayak that you can easily motorize and drive, and car-top by yourself, without help from a fishing buddy? Tired of launching from boat ramps and waiting in line? –
The Wavewalk 700 Series is for you: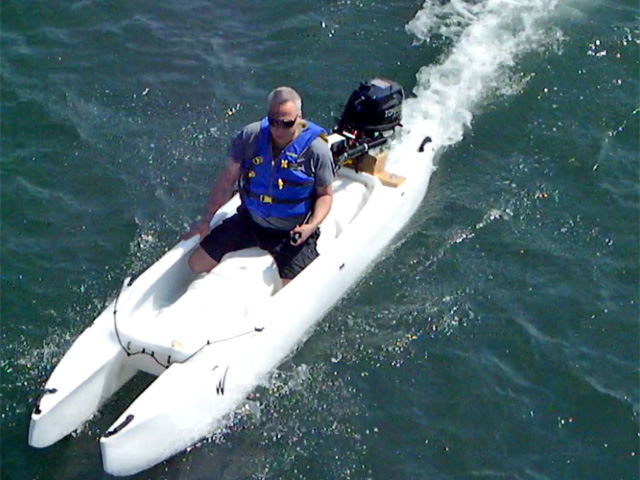 Now you can go in very shallow water, and fish where a regular microskiff or other lightweight boat would draft too much because they depend solely on their outboard motor's propeller. OK, so poling looks good in pictures and video, but you can't call it a useful mode of propulsion, really… The W700 works perfectly as a paddle craft (call it 'kayak' if you want) for one or two full-size fishermen. It's lightweight (80 lbs), not too wide (just 31″), extremely stable, and tracks like an arrow thanks to its patented twin-hull (catamaran) form.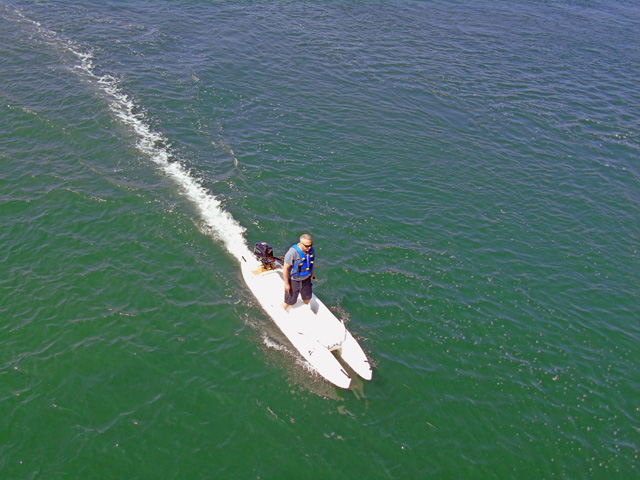 There are no redfish, tarpon, snook, trout or any other fish species that you wouldn't be able to reach with this watercraft, whether in shallow water or in the chop, as well as in water where aquatic vegetation could prevent your motor from working properly.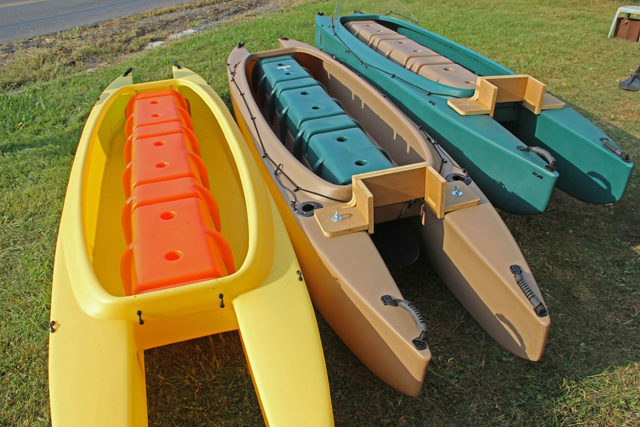 Paddle seated in the riding position, on a saddle similar to the saddle that personal watercraft ('Jet-Ski') feature, with a leg on each side, and your feet reaching the bottom of the hulls, below waterline. There is no sitting posture or hull type that can deliver more stability.
Such Absolute stability is demonstrated in these three videos:
Set your YouTube viewer to 720 HD high-definition –
The first (above) video shows how stable the W700 microskiff is when motorized, and the video below shows its Absolute Stability when paddled:
The following video shows yet another important benefit brought by this boat to big and heavy fishermen who simply can't get into a typical fishing kayak, can't sit comfortably in it, and can't get out of it at will…
As far as storage is concerned the W700 offers as much storage space for camping and fishing gear as you'd expect to find in a regular small-size microskiff or canoe.
This boat weighs just 80 lbs without accessories and motor – a perfect fit for an angler who wants to car-top it by himself. No need to transport it by trailer, and no need for a fishing buddy to help put it in or take it out – It's all easy and quick, and can be done anywhere – Just forget about boat ramps!
This website is owned and operated by Wavewalk, manufacturers of the W500 fishing kayaks and W700 microskiff.